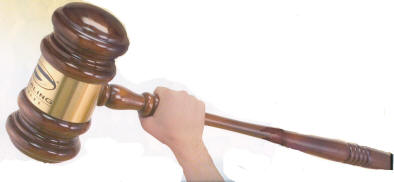 Dane County Judge Maryann Sumi has (justifiably) not been in the best mood lately. Wisconsin Senate Majority Leader Scott Fitzgerald ignored her restraining order that blocked publication of the terrible Walker anti-union "budget" bill.
So she threatened contempt and blocked the bill again.
Well now, here we are, it's a brand new day, and so, we have ourselves a brand new hearing. Everyone was a little on edge, and before you know it, Judge Sumi offered up a word or two of warning:
She advised lawyers to review state Supreme Court rules that say: "A lawyer shall not make a statement that the lawyer knows to be false or with reckless disregard as to its truth or falsity concerning the qualifications or integrity of a judge...."
It wasn't clear who she was specifically addressing. If I were one of the attorneys present, I would pay attention. She's the one in the room with the big gavel.