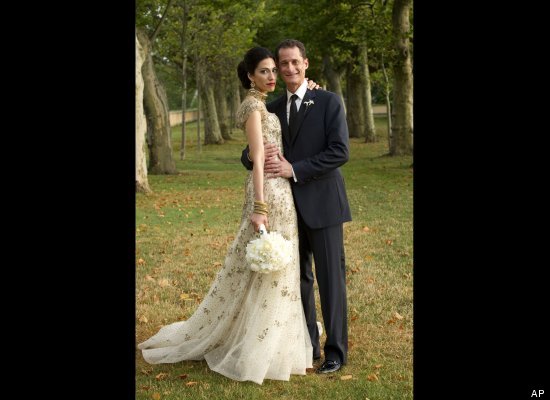 Ben Smith is reporting about exactly what one might expect to hear once a Democrat is involved in a scandal: the inevitable abandonment of reality, reason, or decency by the usual suspects, and a beeline to exploitation and inane conjecture. Oh em gee! Anthony Weiner: Jew-turned-ultra-super-duper-secret Muslim!
Then there's also that "Islam is bad" angle. All in one article!
The clues may be found in the marriage of Huma Abedin, a devout Muslim, and Anthony Weiner, a Jew.

The marriage is interesting in that Abedin's family obviously approved of the match. This is highly unusual for what appears to be a traditional Muslim family. [...]

When looking broadly at the Anthony Weiner–Huma Abedin union, we have to wonder if the coupling of a Jewish American man and a Muslim woman of her pedigree was fostered by love or by a socialist political agenda.
This, via Golblog, is fantastic in both senses of the word:

It is also important, when looking at this situation, to remember that observant Muslims practice Taqiyya , an element of sharia that states there is a legal right and duty to distort the truth to promote the cause of Islam. [...]

Given the defense articulated by the Imam, which would be offered only for a Muslim man, we must believe this opportunity to remove this Muslim woman from a union with an non-believer would be quickly taken. Therefore we must consider that Mr. Weiner *may* have converted to Islam, because if he did not, we have to consider the unlikely, that being that Ms. Abedin has abandoned her Muslim faith, even while she still practices.
Therefore we must consider that The Washington Times *may* be completely devoid of professionalism.