Rapes in the military have been getting much more attention and seeing more and more daylight lately. A lot of that has to do with the efforts of two women senators, Senators Kirsten Gillibrand of New York and Claire McCaskill of Missouri. It's not just the horrific tragedies of the act itself, it's the aftermath. And in too many cases, the result is suicide. So perhaps it's proper to say that one act of violence is really responsible for two.
Huffpo continues to run a periodic series of articles under the heading of Invisible Casualties, in which they shine a spotlight on suicide-prevention efforts within the military. One in particular caught my attention in an eye-opening way. Perhaps this the story or the outcome that surprised me most.
It's the story of what I thought was a rather unusual sexual assault but as it turns out, it's more common than you'd think.
Now the particulars of this tragic tale don't end with the assault, nor with the conviction. It's the aftermath of Jeremiah Arbogast's ordeal.
According to this HUFFPO story:
Men accounted for only about 12 percent of reported military sexual assault cases in fiscal year 2012. But more men than women are sexually assaulted each year in the military, given that men make up some 85 percent of service members, notes Michael Matthews, a close friend of Arbogast. Matthews' own experience as a veteran and victim of rape served as the catalyst for "Justice Denied," a documentary about male military sexual assault survivors.
In 2001, Arborgast was drugged and raped. He reported the crime committed by his staff sergeant. There was a trial and the officer was meted out military justice.
The staff sergeant was convicted by court martial in 2002, given merely a "bad conduct" discharge from the Marines. But Arbogast's ordeal went on for seven more years of severe depression, nightmares and insomnia. He had trouble concentrating; his mind would wander back to the rape. He swung abruptly from rage to numbness. He got divorced. Then got remarried. He drank. Nothing worked.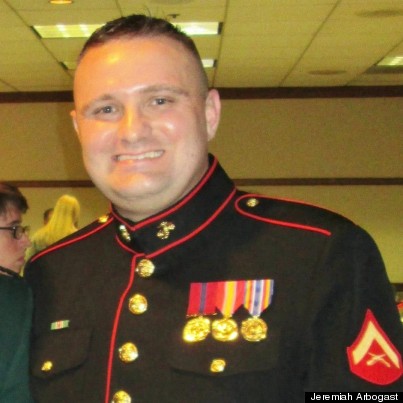 Jeremiah Arbogast wearing his Navy Meritorious Unit Commendation Ribbon, Good Conduct Medal, National Defense Service Medal and Global War on Terrorism Service Medal.
In 2009, Arbogast aimed a gun "right dead in the chest, where my heart would be, where my pain was." He missed and became partially paralyzed.
And so his life continued, but as a paraplegic. It's as if his traumatic past wasn't enough.
This man, just like the many other men AND women who have braved and overcome their sexual assaults, are to be commended.
"I've been through life and death," he said. "There is gonna come a time in your life when you have to say enough is enough. You're letting that perpetrator who assaulted you rent your life for free. You're becoming a slave to what they've done to you."

Others may see his experience as a reason to want to give up. But he says it's the reason to keep living. "It's all the tragedy and the triumph between where I was and where I am today."
Bravo to you all, soldiers and protectors of our freedoms.
We face a military funding shutdown within days because of the lack of patriotism by the tea party. And there's a particularly important need to say thanks to the men and women of the military.
Lance Corporal Jeremiah Arbogast, U.S. Marine Corps, needs some help. And he's not too proud to ask for it. Here's the link to Operation Help First Response.