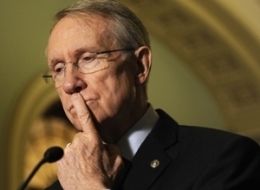 Can't we all just get along? Apparently, Harry Reid thinks so:
In an interview on CNN's "John King, USA" set to air Thursday, the Nevada Democrat said he recently had dinner with Rand Paul, the Republican Senator-elect from Kentucky who won a highly contested race in November.

"I find him to be a very, very sincere person," Reid told CNN Chief National Correspondent John King. "I think that he's not going to be the flamethrower that people think he is."
Whew! What a relief. For a minute there, I thought Rand Paul was one of those extreme types who raised eyebrows and avoided the press whenever he said something controversial and gasp-worthy.
Harry also described Utah's new tea party-backed senator and family friend, Mike Lee, as a "fine young man."
Gosh, how could we have ever thought the tea party would be a problem? They sound like they'll be real palsy-walsies with the senate Dems.
File that under "I'll believe it when I see it."