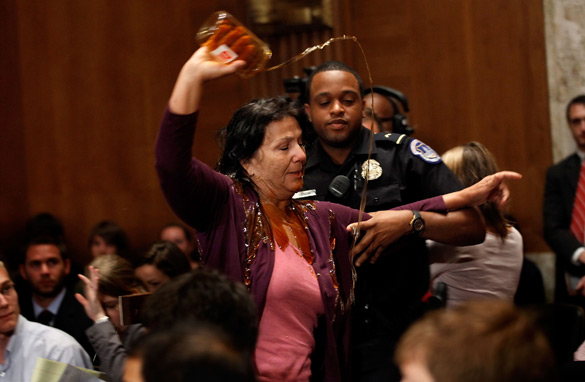 (PHOTO CREDIT: Getty Images)
During today's Senate Energy and Natural Resources Committee hearing, a protester--who happened to be a fourth-generation shrimper, one from the Gulf-- expressed my anger for me, and probably for most of us, but not in the way we might have. She dumped oil all over herself.  Blech... Way too messy, but it made the point and got attention:
"We're tired of the bailouts and we're tired of being dumped on in the Gulf," protester Diane Wilson yelled ...
She also gets kudos for interrupting the dreaded senator from Alaska, Lisa Murkowski.
And then she was arrested.
Murkowski opposes lifting Big Oil's $75 million liability cap. I bet she has a dedicated phone line to Former Half-Gov Oblivia McBathesInOil.
Wilson's written statement:
"I am seeing the destruction of my community and I am outraged [...] I am also seeing elected representatives like Sen. Lisa Murkowski blocking BP from being legally responsible to pay for this catastrophe. ... This is outrageous."
BP and other oil companies make billions in profit, and pay out huge salaries to huge executives with very small... minds. There should be no caps.
There should also be no drilling. If it takes pouring oil on oneself to make that point, then so be it.