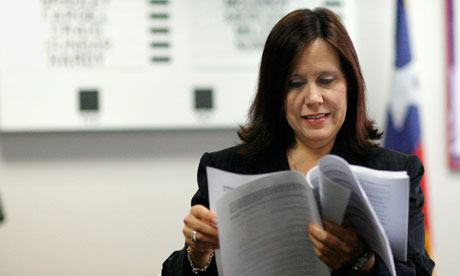 Cynthia Dunbar is one of a clutch of US Christian evangelists who have grasped control of the Texas education board.
Remember when conservatives were up in arms because they believed that President Obama was "indoctrinating our children" when he gave a speech that included this commie message:
"Every single one of you has something you're good at. Every single one of you has something to offer. And you have a responsibility to yourself to discover what that is. That's the opportunity an education can provide."
What could Obama have been thinking?! Who sends messages like that!? Praising kids!? Encouraging them to strive for worthwhile goals?! Appalling.
And how convenient that we get more thorough news coverage of  the Texas board of education in a British publication than we do here at home. Anyone seen wide coverage-- or any-- of this lately? I heard a mention here and there, but I've seen more about a tragic shooting of a 7-year-old than of the decline of our education system.
Cynthia Dunbar does not have a high regard for her local schools. She has called them unconstitutional, tyrannical and tools of perversion. The conservative Texas lawyer has even likened sending children to her state's schools to "throwing them in to the enemy's flames".
Had I only realized how unAmerican public schools were, I would have insisted that my parents send me to one that was not considered enemy territory. I mean, look how I turned out! I used to be so compliant. Now I'm a radical perverted Marxist blogger who craves tyranny and, apparently, flames.
She is one of a clutch of Christian evangelists and social conservatives who have grasped control of the state's education board. This week they are expected to force through a new curriculum that is likely to shift what millions of American schoolchildren far beyond Texas learn about their history.

The board is to vote on a sweeping purge of alleged liberal bias in Texas school textbooks in favour of what Dunbar says really matters: a belief in America as a nation chosen by God as a beacon to the world, and free enterprise as the cornerstone of liberty and democracy.
"A nation chosen by God." Yes, God chose America the way he chose George Bush and Barbie McLipSchmutz. And that's how Barack Obama became president.
Several changes include sidelining Thomas Jefferson, who favoured separation of church and state, while introducing a new focus on the "significant contributions" of pro-slavery Confederate leaders during the civil war.
That's right, kids, nothing says liberty and justice for all like slavery. Shackle your not-white chums and force them into hard labor.  It's the American way!
There is also a suggestion that the anti-communist witch-hunt by Senator Joseph McCarthy in the 1950s may have been justified.
Blacklisting was a bad thing? Fugetaboutit! Those reds deserved it! Just ask Dalton Trumbo and Lillian Hellman, those dirty commies!
The education board has dropped references to the slave trade in favour of calling it the more innocuous "Atlantic triangular trade", and recasts the Israeli-Palestinian conflict as driven by Islamic fundamentalism.
So that's what the kids are calling it these days. Much easier to digest, don'tcha think?
Here in the good old U.S of A. we get more via Eileen Smith:
I have no problem with teaching religion in school. At my school we prayed every day and were even forced to go to mass. Oh wait. That's because it was Catholic school.

We're all familiar with the Thomas Jefferson controversy and the battle over evolution but here's one I hadn't heard before. The board has dropped references to "slave trade" in favor of "Atlantic triangular trade." Now that's creative. If you look that up on Wikipedia, it says "see also: Atlantic slave trade." No way! Fooled again! The history books will also describe the Israeli-Palestinian conflict as driven by Islamic fundamentalism. Oh no you didn't! Can I try? Northern Ireland lost and it's now all the Republic of Ireland! Boom!
Now if you'll excuse me, I have to find my way back through the looking glass.
H/t: Misha44_