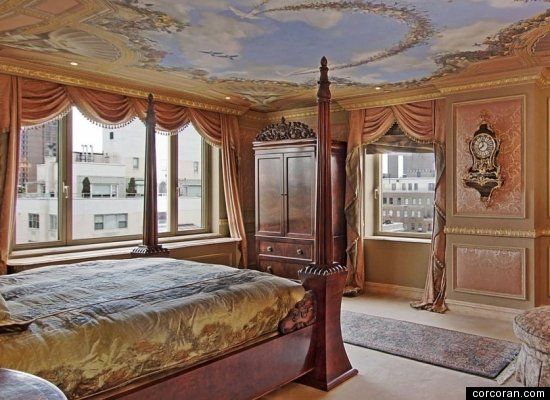 Location! Location! Location!
Nausea! Nausea! Nausea!
Poor Boss Limpdong, only 13 million? That will clearly land him from penthouse to poorhouse!
[H]e's been forced to cut the asking price for his Fifth Avenue penthouse to $12.95 million.

Limbaugh originally listed his spacious digs in March, asking $13.95 million. He bought the 10-room condo at 1049 Fifth Ave. in 1994 under the name of R H Trust, according to city property documents.
Forced!? Obama's Marxist, commie government made him do it. Can you hear the rant coming?
The pad sprawls across nearly 5,000 square feet and two of its terraces overlook Central Park and its famous reservoir.
See? Just a man of the people. A whole pile of man. About 350 pounds worth of man.
Oh wait. Did I say man? That was remiss of me. Beast. 350 pounds of beast. My bad.
Oh wait. Did I say beast? That was remiss of me. Ass. 350 pounds of ass. My bad.
The general appearance can be described as, well, ornate, with trompe l'oeil ceilings and mural-covered walls.

Other lavish features include gold leaf moldings, mahogany floors, upholstered walls and an Italian marble foyer.
What fine, everyman taste he has! How one of us. Actually, it sounds like classic Versailles eclectic combined with PeeWee Playhouse modern with a dash of vomitorium.

I'm surprised it doesn't have a stable. After all, Limpdong does need a place to sleep.