By GottaLaff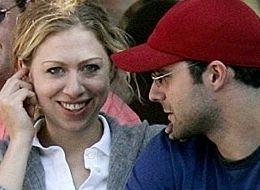 Chelsea Clinton, daughter of President Bill Clinton and Hillary Rodham Clinton will not be having a traditional Christian wedding but are planning a Jewish wedding since her future husband, Marc Mexvinsky is Jewish.

The bride and groom announced their wedding in November and are just now talking openly about the groom's Jewish religion. Much of the talk that is circulating is coming from Jewish Community Centers who are looking eagerly to having a member of President Bill Clinton's family join their Community.
Counting down to the anti-Semitic jokes and smears. And 5...4...3...2...
In the meantime, mazel tov!
H/t: 42bkdodgr