By GottaLaff
A so-called columnist at the Calgary Sun has a remarkably sexist thing or two to say about right wing v. left wing women. I'd forgotten people like this existed in the 21st century:
The recent election of Danielle Smith as leader of the Wildrose Alliance reminded me that among the many things I love about the libertarian/right wing are the women.

Could be our slogan: Come for the culture war … stay for the chicks.

Right-wing women rock.
"Stay for the chicks." No, that's not anachronistic at all. If this column isn't tongue-in-cheek, then Ian Robinson has RDD: Severe respect deficit disorder.
Not for us the sturdy, honest calves of the New Democrat/Green Party female, honed on eco-tourist rainforest hikes.

Those legs are often on unfortunate display, extending from a knee-length tweed skirt as hairy as the legs themselves, and end in a pair of Birkenstocks.
Apprently, all that excessive nose hair ego is interfering with what's left of his mind.
The only sensible footwear you'll find in a right-wing woman's closet are the Nike cross-trainers that go with her gym membership.

Everything else has a three-inch heel. Minimum.
What is up with conservatives and their fetishes? I wonder if Ian's into diapers, too.
Basically, the world economy depends on right-wing women buying shoes.
The world economy? Really? That's some mess-o'-new shoes! What are those high-heeled wingiewomen tromping around on, cut glass?
A right-wing woman wants to get elected, she runs for office.

If she wins, great. If she loses … well, there's always more shoe shopping.
Campaign slogan: Elect right-wing women! They're not only losers, they're barefoot losers with way too much time on their hands!
A right-wing woman hits the gym, swings past Sobey's and has dinner on the table by the time you get home … while her left-wing counterpart is still stuck in traffic listening to Sarah McLachlan on her iPod and feeling morally superior about her carrot choices.

And when that plate of food is put in front of you by the right-wing hottie you had the good sense to marry, it will be 100% tofu-free. If you're lucky, she just remembered to buy steak and forgot about the carrot entirely.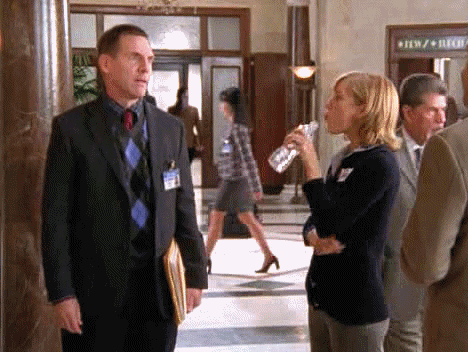 There's a lot more, but let me leave you and your impending headache with this sagacious little nugget:
And in case you're not convinced, to indicate the utter superiority of the right-wing woman over the left-wing variant … just turn on The View.

The left has Joy Behar and Whoopi Goldberg.

We've got Elisabeth Hasselbeck.

Checkmate.
So that's his idea of scoring a big win (odd juxtaposition of Hasselbeck and a game she'd mistake for a collection of salt and pepper shakers). He should stick to checkers.
H/t: Pete